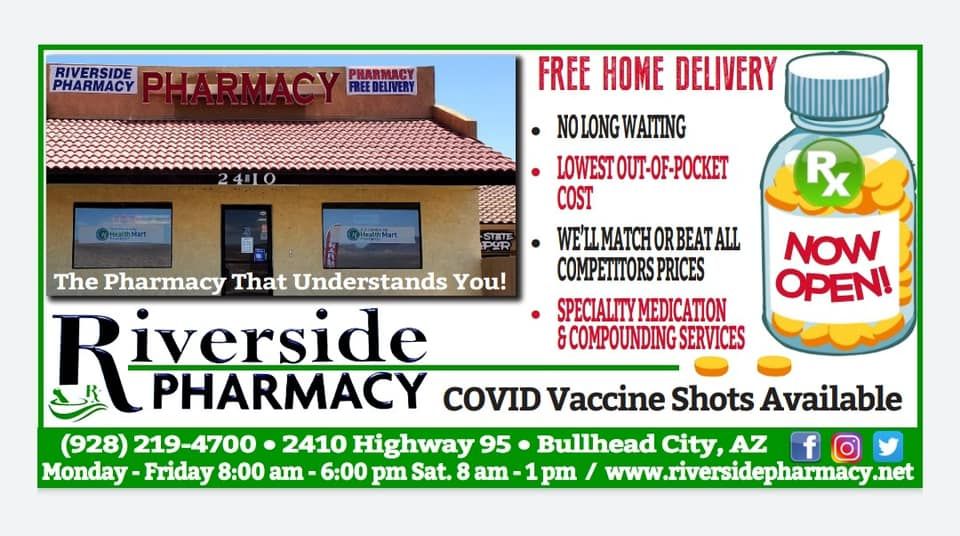 About Us
Riverside Pharmacy is a locally-owned independent pharmacy, proudly serving Bullhead City, Arizona and the surrounding communities. We believe that being a community pharmacy means providing healthcare and medication services to our patients that are customized to meet their needs.
We are your one-stop shop for medications, vitamins and supplements, over-the-counter cold and flu medication, health screenings, immunizations (including the COVID-19 vaccine), medication management and adherence assistance, and much more! At Riverside Pharmacy, you can always count on personal attention provided by our caring, professional staff.
Visit us today and experience the Riverside Pharmacy difference!
Our Mission
Riverside Pharmacy is conveniently located and locally-owned and operated to provide you with the best service in town. Our expert pharmacists have over 15 years of experience in the Bullhead City area. We care for the community because we're part of the community!
Our Vision
We aim to provide our patients with the overall health and wellness services needed to keep them and their families healthy. You'll receive personalized attention from our friendly, caring staff. We're here to answer any questions you may have about your health and wellness goals.